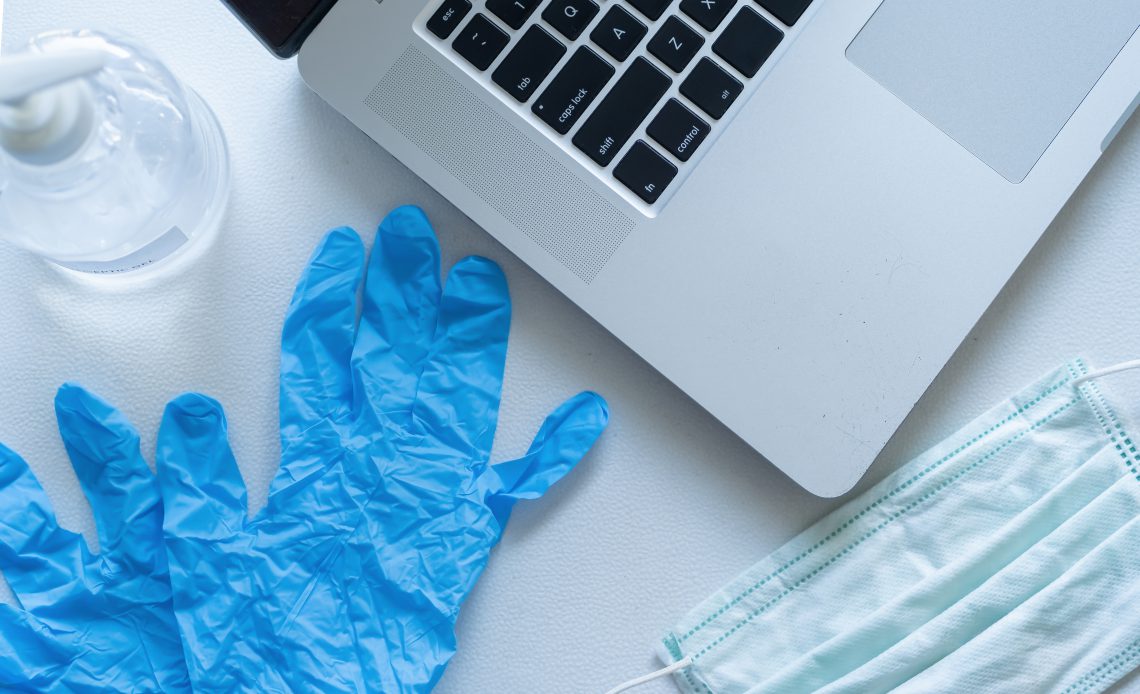 By Caitlin Cappa Nuñez
Employers in today's offices have to balance a variety of issues to make the office cleaner and safer for all who come in to work. This can include changes to the office layout, procedures and communication to make sure that everyone feels comfortable in their work environment. That said, many of these changes can be made with no or minimal cost involved.
From a layout and physical perspective, companies should move the office away from benching arrangements and open work areas to offering larger workstations for more space per employee. In the short-term, this may mean staggering the workforce and only occupying every other workstation while more permanent transitions are implemented. Dividers between workstations and reception desks will help reduce the spread of germs. Adding a locker system would allow personal items to be secure without potential contamination of the rest of the space and enable workstations to be shared with others on staggered office shifts.
Companies should also consider shifting to larger conference rooms with lower maximum occupancies. These spaces can be created by repurposing collaboration spaces, huddle rooms and phone booths. Employers should also move to Wi-Fi only for easier use of shared workstations, as well as cable-free AV platforms for touchless use. For bathrooms and breakrooms, consider removing chairs or marking alternating stalls and seats as "off limits" to encourage social distancing. Restrooms can be equipped with UV lighting, which can help sanitize surfaces.
From a sanitation and procedural perspective, there are a variety of safety precautions that can be taken, and the more consistently they are each integrated, the safer the workplace will be for everyone. To reduce contamination, businesses can install touchless card readers and door openers and adopt one-way path of travel in narrow corridors, stairs and doorways. All communal and personal surfaces should be cleaned multiple times daily, with a covered trash receptacle for disposing of face masks, gloves and other personal protective equipment that is emptied and disinfected daily.
If there are frequent customers or office visitors, it may be prudent to designate an area for visitors to store outerwear and personal items. They can also use this space to sanitize their hands and don face masks or any other personal protective equipment deemed necessary before entering the shared office space.
Regardless of what specific protocols are adopted, companies should clearly communicate those efforts to employees before returning to the office. This could include providing kits with sanitizer and cleaning supplies. Clear and visible signage is an efficient and cost-effective way to mitigate contamination and communicate these changes to provide peace of mind to employees and visitors as they navigate a new normal. These signs should specify occupancy levels for communal areas, wayfinding and path of travel, and spacing for queue lines, as well as new protocols for sanitization, social distancing, and PPE.
These are uncertain times that require careful thought before making decisions that impact the entire company and its workforce. There is no one-size-fits-all approach to returning to the office after such a drastic and abrupt shift. A workplace strategy team can determine the most efficient use of space while accommodating social distancing guidelines and the organization's specific goals, work style and culture.
As a Project Manager, Caitlin Cappa Nuñez leads tenant and capital improvement projects throughout the Bay Area from workplace design through construction and move management.