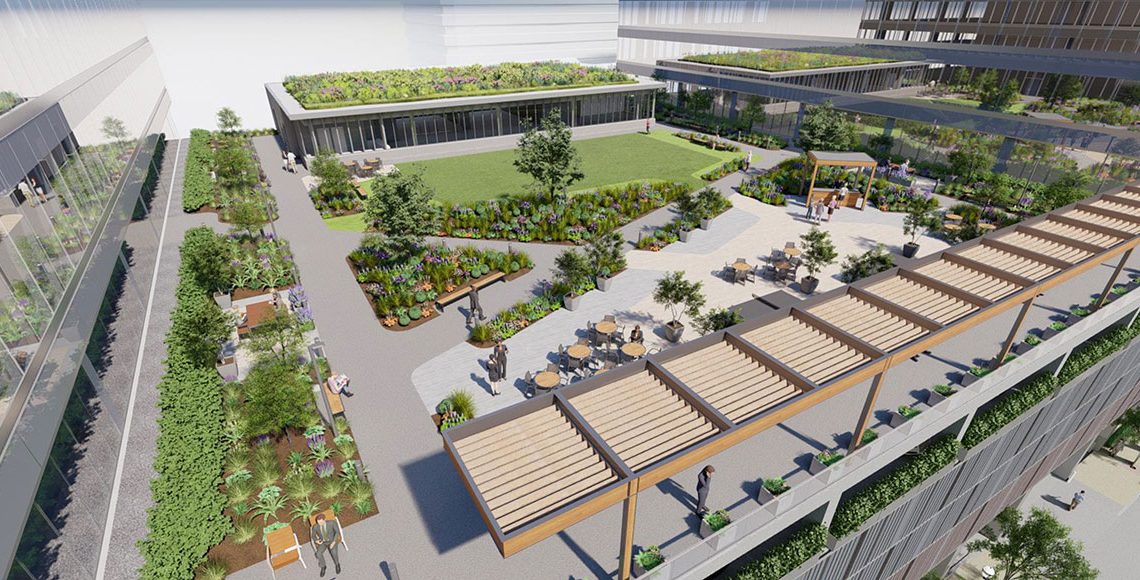 by Josh Richards,
Director of Sustainability
---
For years, tenants have clamored for the new/now/next in office design. Collaborative space, relaxation stations, fitness centers, high-end kitchens, lounges and wine bars are just some of the features that drove tenants to ink leases. Amenities like these are touted as tools to recruit top talent and keep employees in the office where formal and informal interaction with colleagues drives project innovation and absorption of company culture.
But the events of 2020 threw a wrench into the office amenities landscape. Landlords and tenants alike questioned when and if office life would return to pre-pandemic status. Would occupants still see value in familiar amenities like shared conference centers? Would open concept floorplans lose their luster now that tenants view the workplace through a health and wellness lens?
Despite the uncertainty, one class of amenities has continued to thrive: green space and biophilic design. And for good reason! Integrating access to nature into office settings promotes overall wellbeing, a topic that tops the list of priorities for most office dwellers. Furthermore, these elements advance corporate values like collaboration and innovation, boost owner and tenant satisfaction, and support business initiatives such as environmental, social and governance (ESG) goals.
---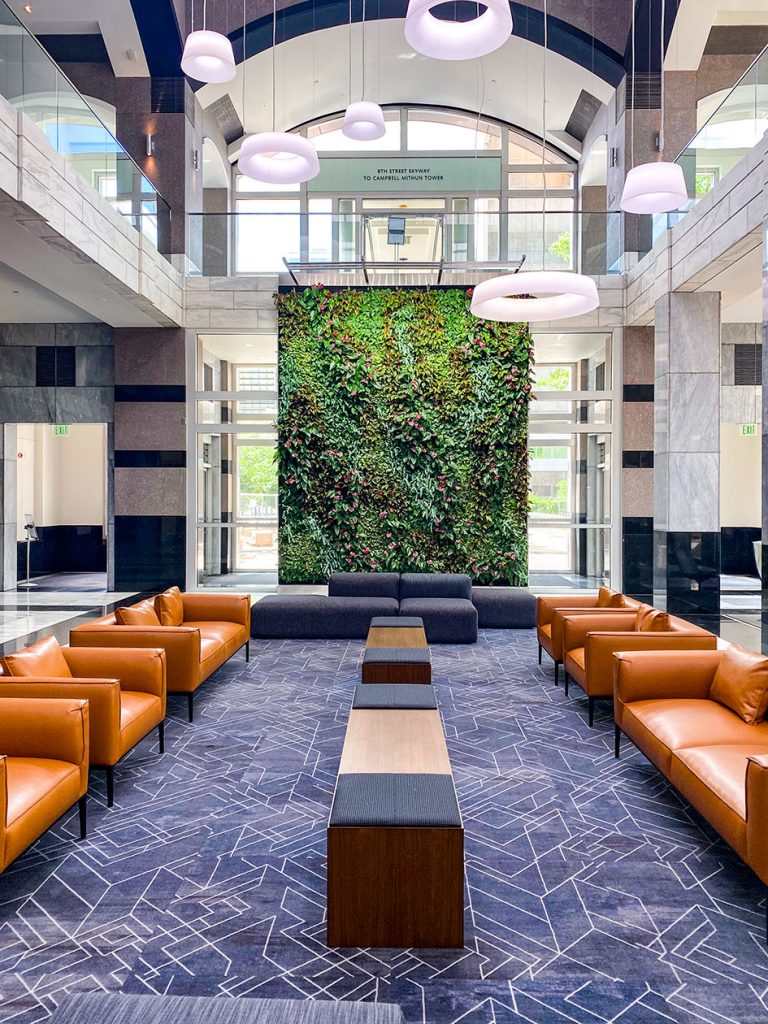 In Minneapolis, the grass really is greener at SPS.
This 655,070-square-foot office property has one of the largest living walls in Minneapolis and more green space than any building downtown. Research consistently shows that access to green space and nature supports elevated mood, bolsters mental health and reduces stress. Spending even two hours in green spaces over the course of the week can dramatically improve wellness outcomes[1].
SPS Pavilion renovations were recently completed, transforming the front lawn into a Turf Club for tenants with small group activities such as croquet and bean bag tosses. Building management encourages tenant engagement with these outdoor spaces through events such as yoga and live music performances, providing a refreshing change from the many months of video calls.
---
The roofs are abuzz in Denver and Chicago.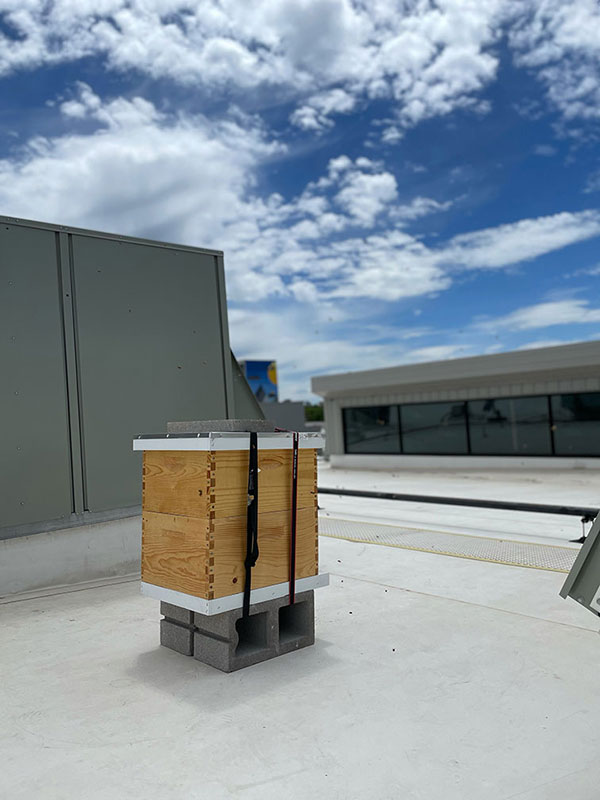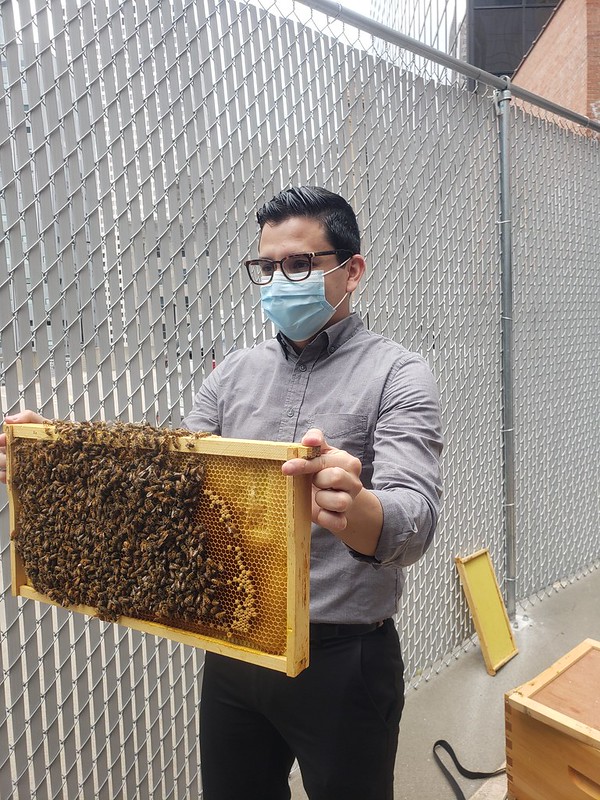 At 3001 Brighton Blvd. in Denver's River North Art District, Transwestern partnered with experienced keepers to introduce honeybees onto the rooftop landscape. Best Bees, whose mission is to advance the science of beekeeping and improving the health of pollinators, engages building tenants in Denver through education and on-site honey harvesting demonstrations to reinforce the importance of bees as pollinators, which are vital for stable food systems both locally and globally.
Transwestern-managed 77 West Wacker recently added an outdoor oasis to its already impressive list of amenities. After ownership purchased the adjoined low-rise, one of the first orders of business was to convert its rooftop into an open-air, Zen space complete with a pollinator garden, beehive boxes, locally sourced artwork and seating for tenants to enjoy. Local horticulturalists helped put an emphasis on education by installing QR codes to identify each plant and its environmental niche. Even some building staff have been trained to take care of the bees! With nearly $15 billion of agricultural value tied directly to honeybee pollination in the United States each year, reinforcing population networks by integrating bees back into urban and suburban areas is one step toward greater food security and the perpetuation of local flora.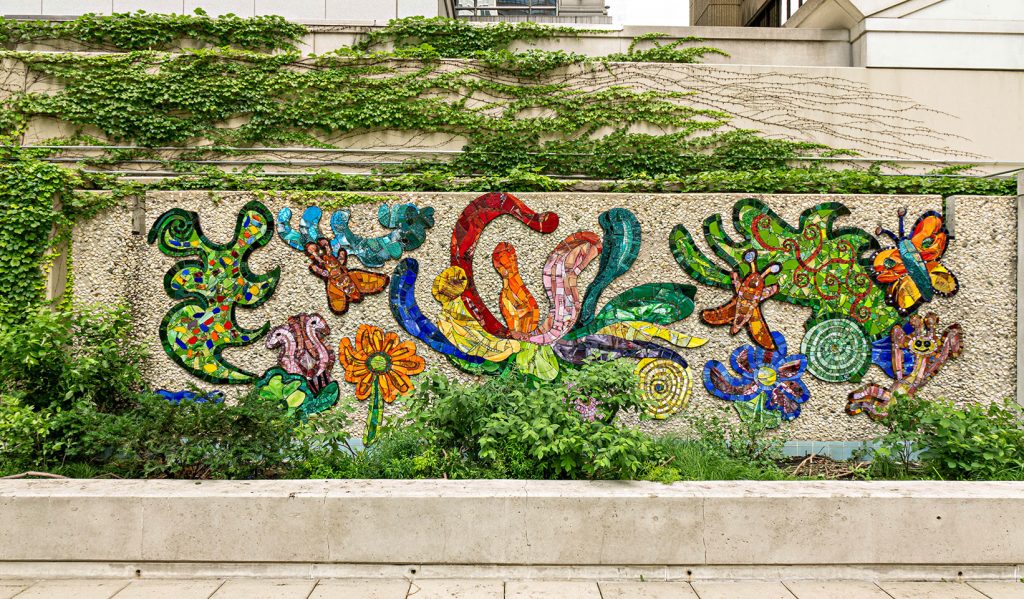 ---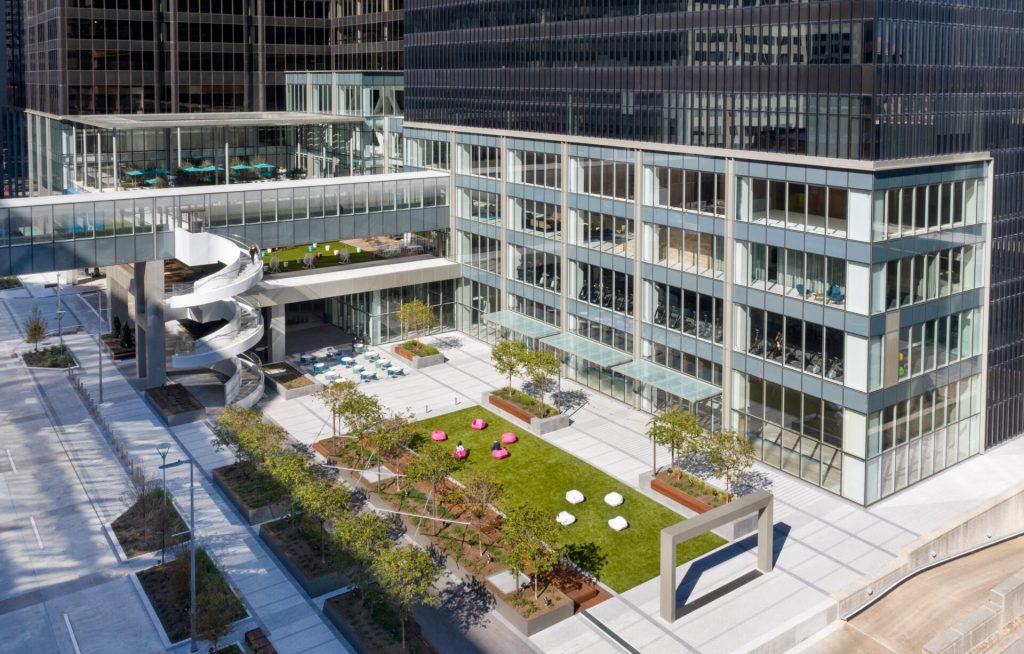 Houston Center creates connections with the community.
At this property Transwestern leases for Brookfield, 24,000 square feet of pedestrian and green space were activated in a recent renovation to forge a use and design connection with the larger community. Encompassing three levels, one public and two tenant-facing, the space extended beyond the property line and into the public thoroughfare by converting one street lane to a walkable path. A digital waterfall on the ground level appeals to visitors' sense of hearing while incorporating biophilic elements that promote mental wellness. Altogether, the design of this community-accessible common space extends views and sightlines for building occupants while visually and physically inviting pedestrians to share in the recreation.
---
New construction in St. Louis offers something fresh.
Balke Brown Transwestern has teamed up with NAI Desco to market a new property currently under construction in Clayton, Missouri, that will incorporate a private garden terrace on the parking garage rooftop between two towers. In addition to adding tenant amenity space, rooftop gardens provide temporary stormwater retention, reduce solar heat absorption and can foster habitat for pollinators and other local species.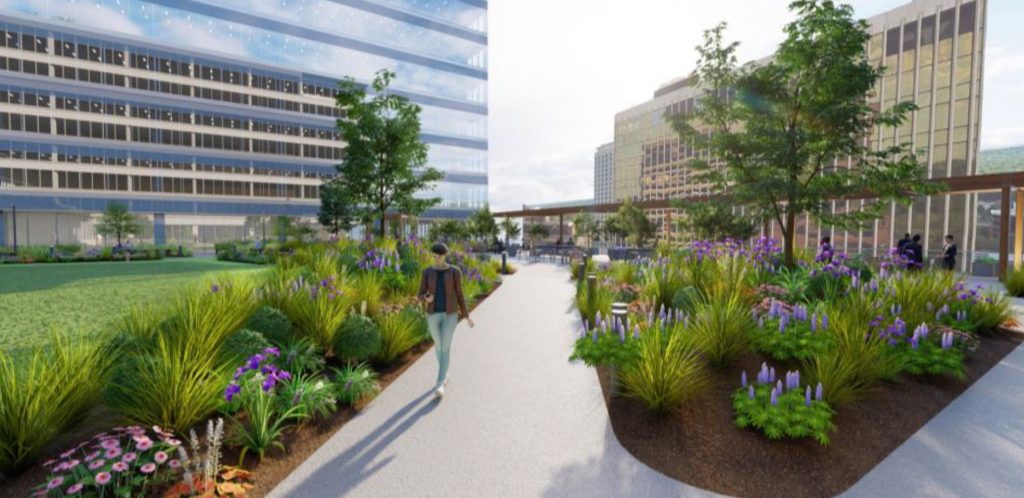 The greenspace is unique to this urban submarket, driving above-average interest from high-end tenants that look for these unique amenities for their employees.
Through projects like these, what's clear is how desirable green space amenities remain for tenants while adding asset value for owners. Additionally, they generate community interest and branding potential through positive environmental and wellness outcomes.
---
[1]
White el al., 2019.
Spending at least 120 minutes a week in nature is associated with good health and wellbeing.
Scientific Reports 9:7730.